4K Ultra HD Blu-ray is the ultimate format for movie enthusiasts who want a cinematic experience from the comfort of their homes. Thanks to the increasing availability of 4K UHD Blu-ray players and compatible discs, and the affordability of 4K UHD TVs and monitors, achieving this experience is easier than ever. In addition, it's now possible to convert regular 4K videos to UHD quality with the right tool, providing even more options.
With a professional UHD burning software like Yuhan 4K UHD Blu-ray Creator, you can burn UHD videos to a blank disc that can be played on a compatible 4K Ultra HD Blu-ray player. Alternatively, you can also convert a movie or video to UHD and store it on your computer as an ISO file or folder for later use. This provides the added benefit of allowing you to make backups of your favorite movies and create compilations of funny videos that you can share with friends and family.
Yuhan 4K UHD Blu-ray Creator is a high-quality software that offers a wide range of useful features. The tool is capable of creating quality 4K UHD Blu-rays from your computer using videos of various formats, including videos that feature HDR10 or Dolby Vision technology. The software preserves these aspects fully intact, ensuring that you can enjoy great image quality when watching videos on a compatible TV or PC monitor.
One of the most useful features of Yuhan 4K UHD Blu-ray Creator is its ability to create videos of varying sizes. The tool offers four different output modes to choose from – BD25 2160p, BD50 2160p, BD66 2160p, and BD100 2160p. This feature allows you to convert a video to UHD that's the perfect size for the blank disc you want to burn it on. However, you can also choose to store the videos locally as ISO files or folders.
The software is lightning-fast when it comes to converting any video to UHD, thanks to its specialized 4K hardware acceleration technology. The entire process is straightforward and easy to follow, making it accessible even to beginners. With Yuhan 4K UHD Blu-ray Creator, you can create high-quality UHD videos that provide an immersive cinematic experience.
Yuhan Blu-ray DVD Creator is all in one DVD, Blu-ray, 4K UHD authoring software. It is very easy to create DVDs, Blu-ray, 4K UHD from any popular video format and popular picture format. With its user-friendly interface, it offers more than 10 pre-designed menus, as well as the option to customize menus. It also supports multiple audio tracks and subtitles, and features hardware acceleration capabilities for optimal performance. it is available for both windows and Mac.
Key features
★ Available for both Windows and Mac.
★ All in one DVD, Blu-ray, 4K UHD Blu-ray authoring software: DVD(PAL, NTSC), Blu-ray(720P, 1080P), 4K UHD Blu-ray.
★ Retain Dolby Vision & HDR10 Video and Blu-ray PCM, TrueHD, DTS HD Master, AC3 Plus Audio.
★ Support multiple audio tracks, multiple subtitles, external subtitles.
★ Support almost all popular video formats, including AVI, MP4, MKV, M2TS, FLV, MOV, WMV,VOB, Xvid, TS, etc.
★ Support almost all picture formats, including heic, heif, jpg, bmp, tiff, png, gif, webp etc.
★ Support photo slideshow, offer 20+ kinds of image transformation effects, support background music.
★ Save as folder, ISO, or burn to disc.
★ Support Blu-ray frame rate 23.976fps, 25fps, 29.97fps and 59.94fps.
★ Support AMD, INTEL, Nvidia graphics card and Mac videotoolbox acceleration.
★ Built-in 10+ sets of menus, support custom menus.
★ Support trimming video and adding chapters.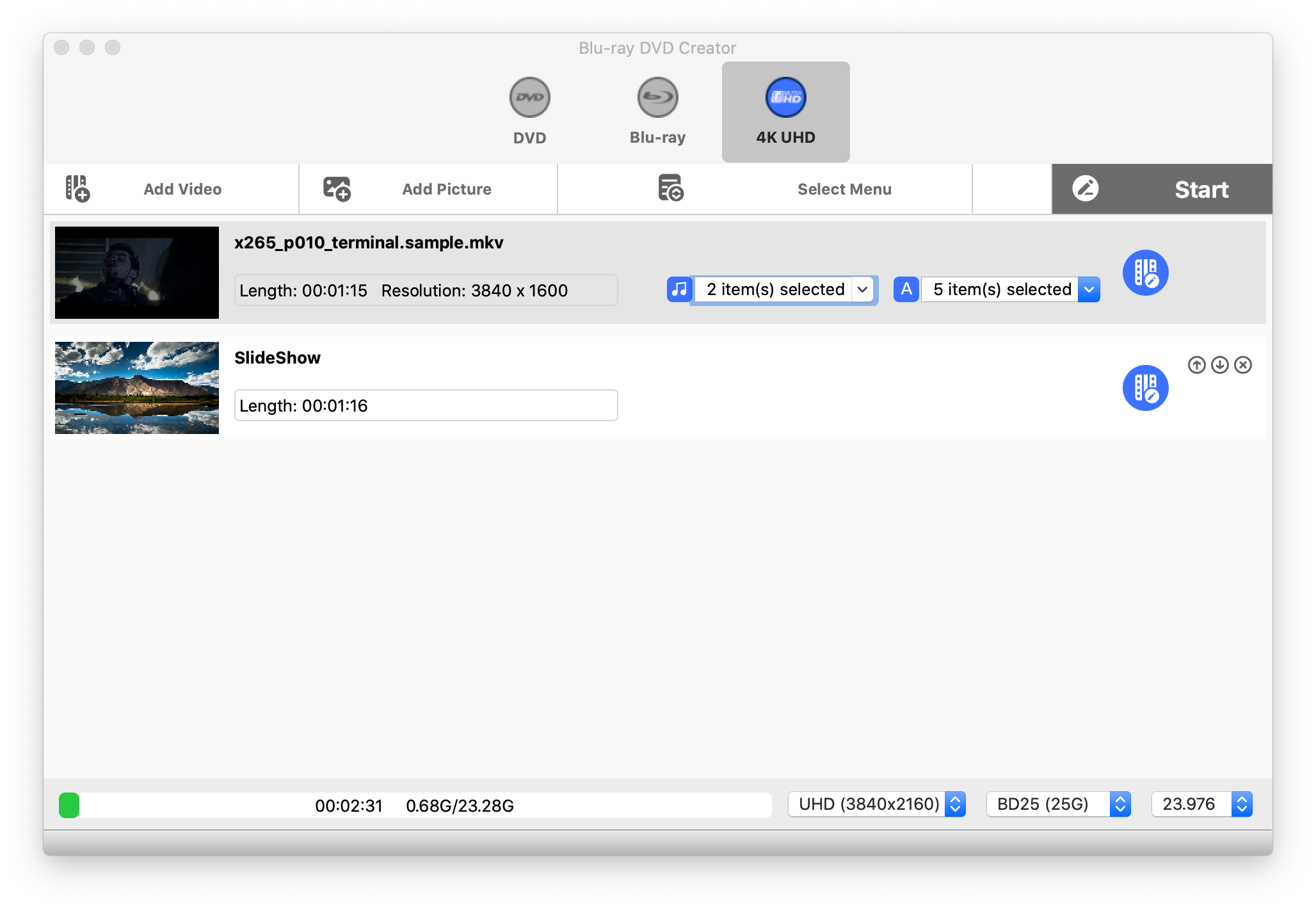 Add Video Files.Yuhan 4K UHD Blu-ray Creator supports almost all video format, like AVI, MP4, MKV, M2TS, FLV, MOV, WMV,VOB, Xvid, TS, etc
Video Settings(option), you can trim video, set chapters, set audio track language and subtitle language.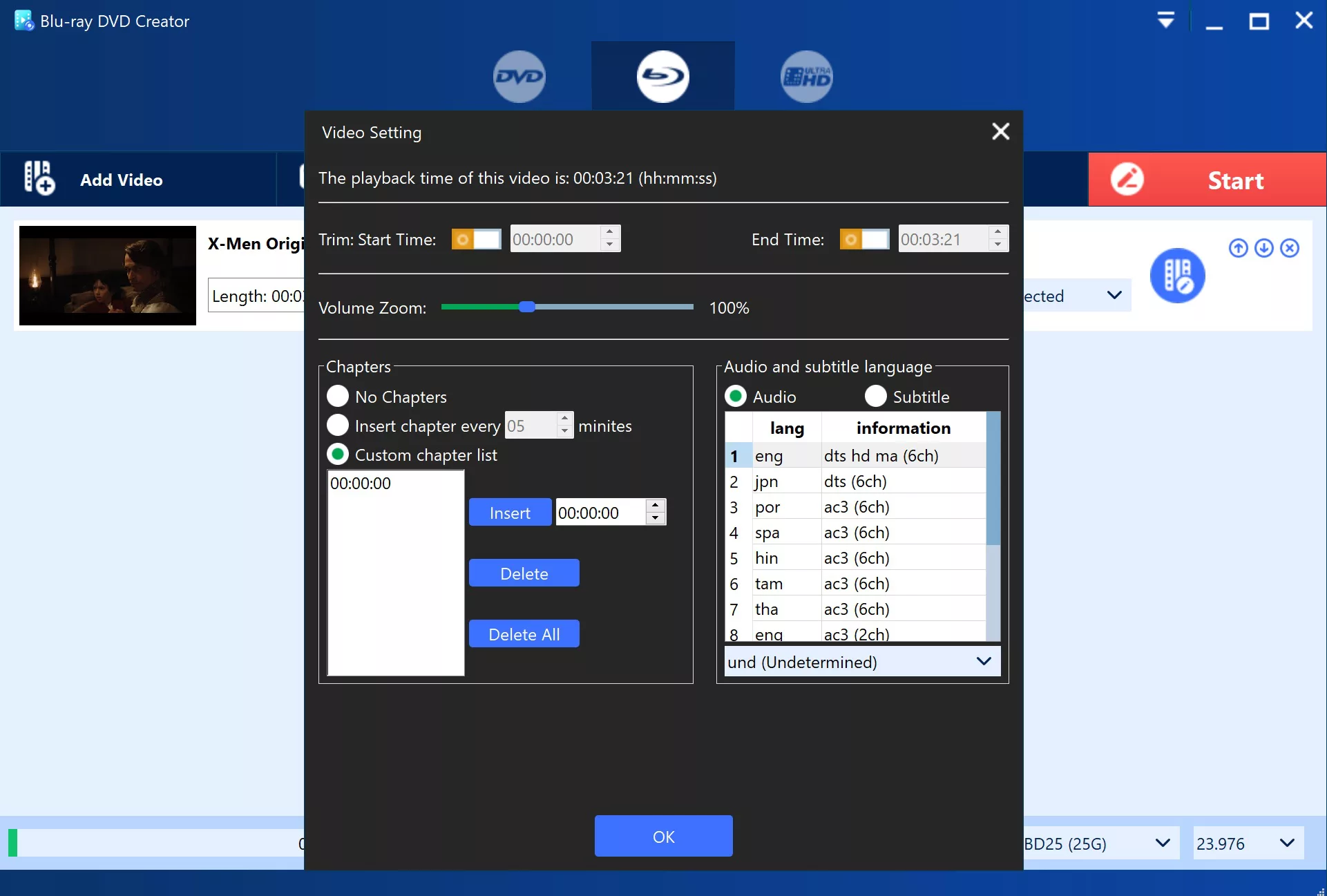 Select a menu or customize your menu.Yuhan Blu-ray DVD Creator offers two options for creating menus: you can choose the built-in menu or customize your own. With the custom menu, you have the flexibility to set the background picture, choose background music, and adjust the font, color, size, and content of text menu items. You can even replace thumbnails and set their size. Additionally, you have the option to delete any menu items that are not needed, giving you complete control over the final product.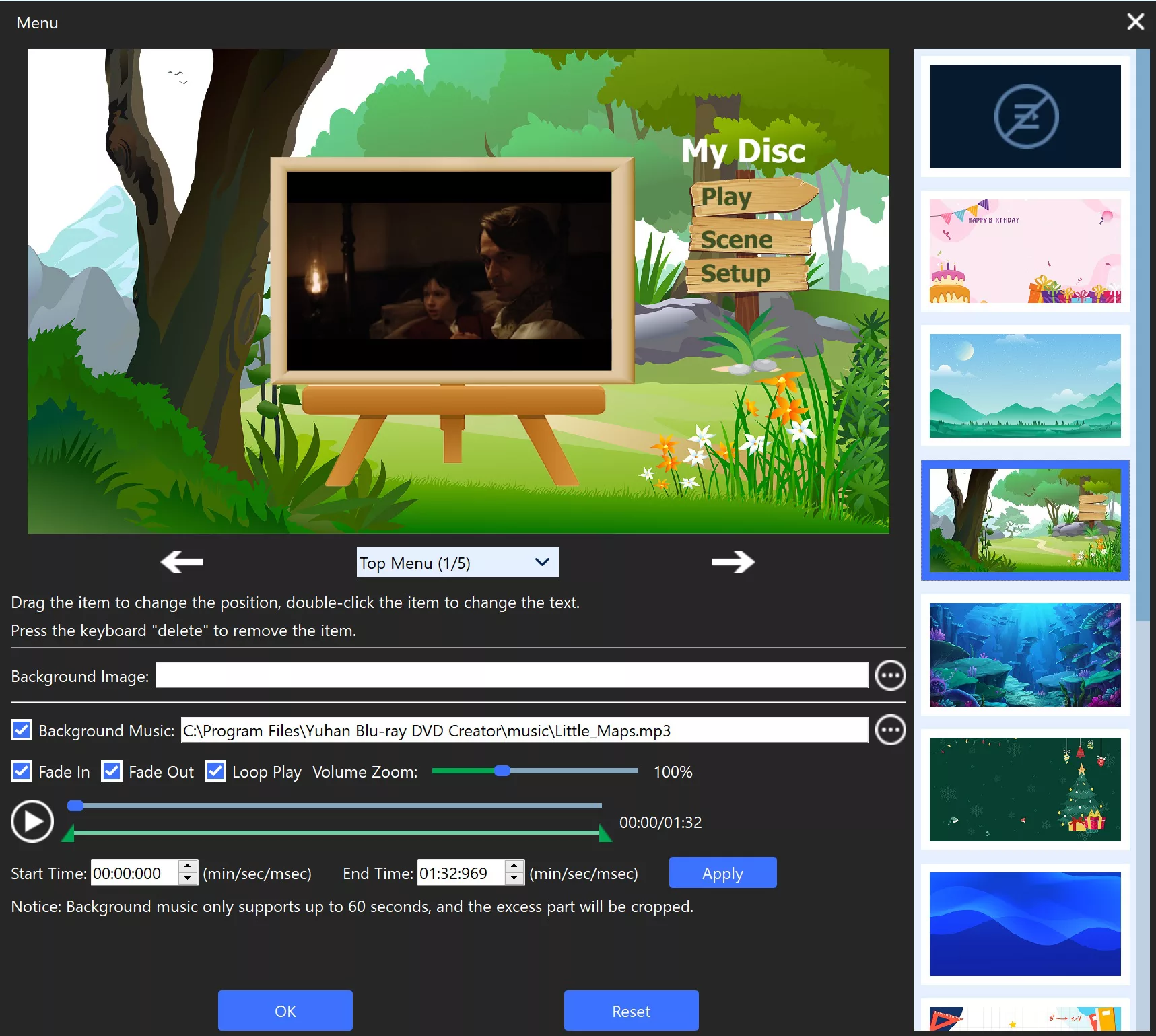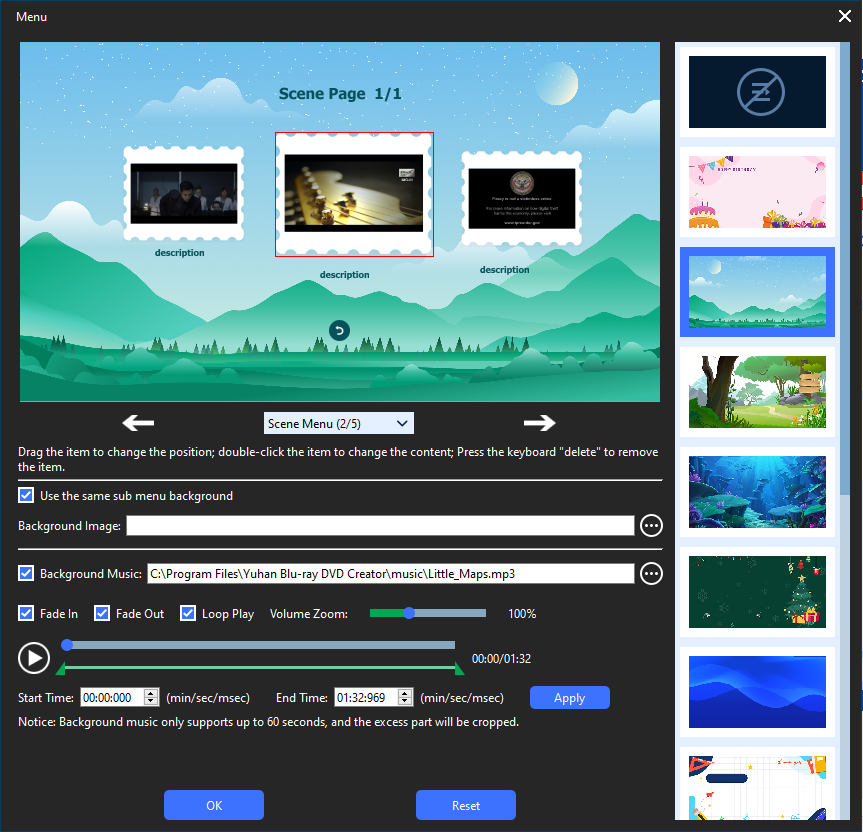 Global settings. To retain Dolby Vision, you can select the "passthrough" mode in the "Blu-ray & UHD Processing Mode" option. If you want to support HDR10, you can choose "HDR" in the "UHD HDR & SDR" option. For advanced audio tracks like LPCM, TrueHD, DTS HD Master, and DTS Atom, you can choose "audio copy". These features are not available in other 4K UHD Blu-ray authoring software.
Furthermore, Yuhan 4K UHD Creator also supports hardware acceleration. It not only supports Intel, AMD, and NVIDIA graphics card acceleration on the Windows platform, but also supports video toolbox acceleration on the Mac platform, which can increase your authoring speed by up to 10 times.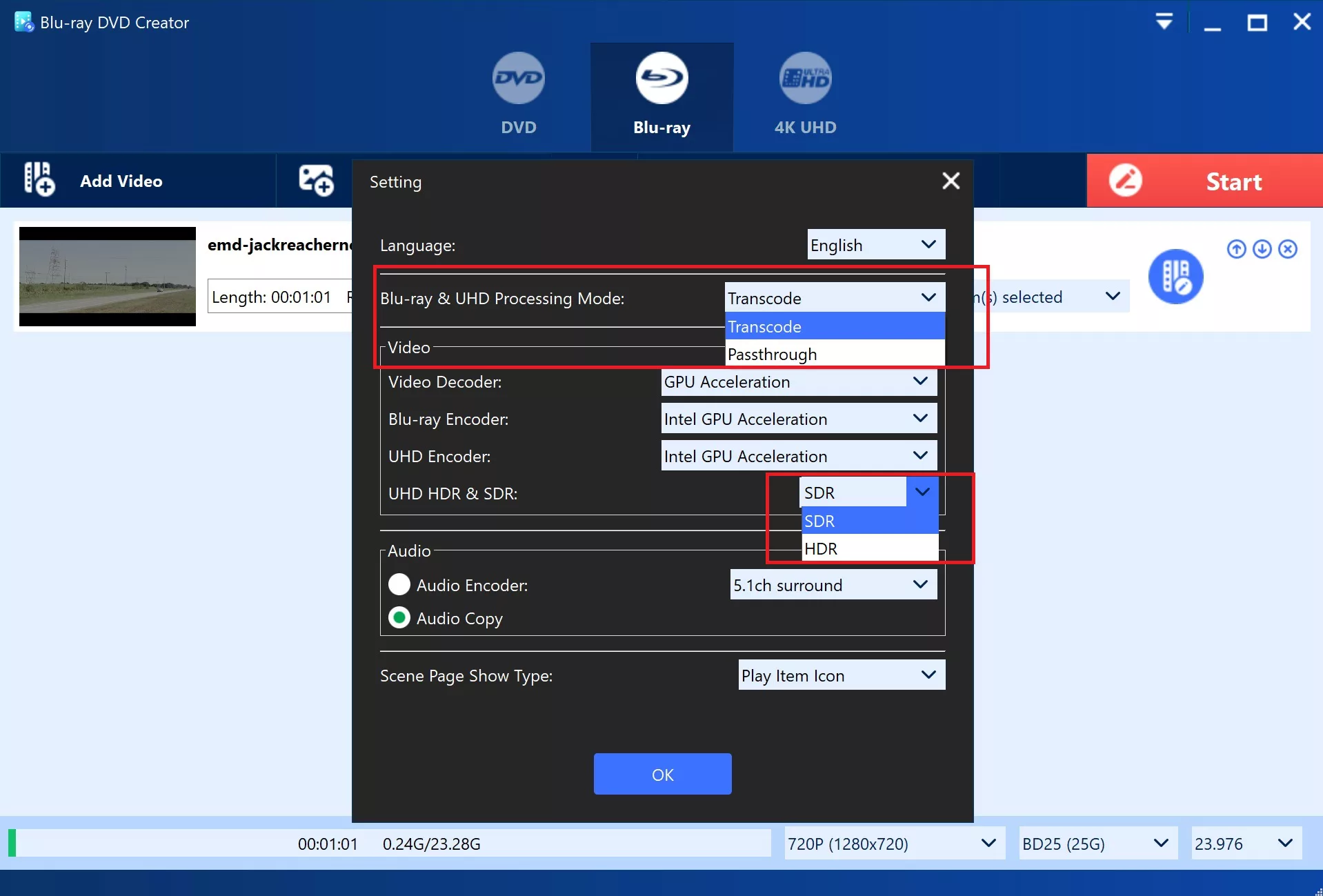 Save. Yuhan 4K UHD Creator offers three ways to save the output of your creation: as a 4K UHD Folder, ISO file, or by burning it onto an empty disc. If you intend to play or back up the 4K UHD content on your computer, you have the option to save it as a folder or ISO file. This enables you to use media players such as VLC, Kodi, PowerDVD, and others to play the content on your computer. Additionally, you can choose to burn the content onto a disc in the future. If you prefer to play the content on a Home UHD Player, you can burn it onto a disc.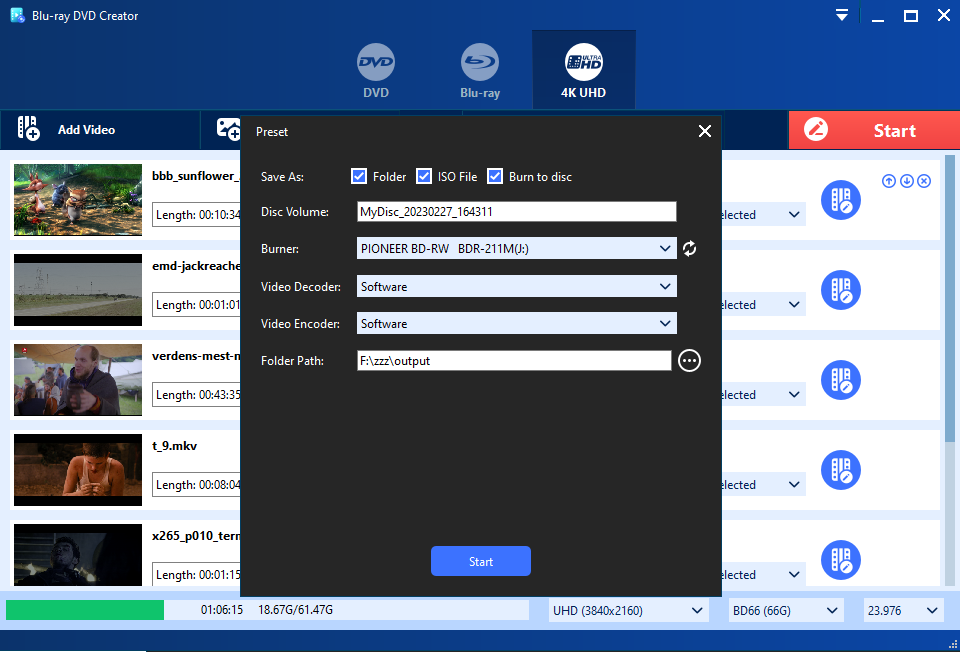 This article provides a comprehensive guide on how to burn 4K movies to a disc that can be played flawlessly on your 4K UHD Blu-ray player. While the process may seem straightforward, you'll need specialized software to get the job done. Fortunately, Yuhan 4K Blu-ray UHD Creator is a reliable tool that can help you achieve this task effortlessly. You can even try it for free using the trial version, making it an excellent option for anyone who wants to test its capabilities before making a purchase.